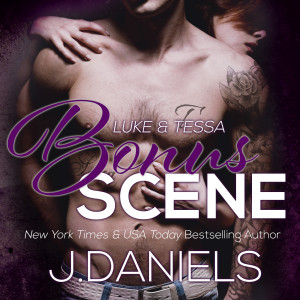 Any LUKE fans out there?
Remember in Where We Belong when Ben & Mia left the boys in the hands of Luke & Tessa for a couple days to get their much needed alone time?
This is what happened while Ben was finally getting some…
*****
Luke
I don't know how the fuck anyone with kids gets any sleep at night.
Leaning against my old bedroom wall, my arms folded tightly across my chest and my breathing anxious as shit, I stare across the room, shifting my restless gaze between the twin bed—my old bed growing up, and the portable crib set up by the window. The two small bodies occupying them keeping me on edge like nothing else I've ever felt.
Keeping me here, right the fuck here, in this room.
Stressed as a motherfucker.
Tessa and I put Nolan and Chase to bed over two hours ago. That went down a lot easier than I was anticipating.
A lot fucking easier. Especially after seeing how damn excited Nolan was about staying at my place for the next two days while Ben and Mia get some time alone.
The kid went a little psycho about it. Filming himself in every room with his iPad. Taking a fuck-ton of selfies with me.
And I don't do selfies, but it's Nolan, so fuck it, I did selfies.
A lot of fucking selfies.
He even insisted on him and Chase getting their heights measured out on the wall in my kitchen below mine and Tessa's.
"We're gonna live here too, Uncle Luke," he told me, smiling proudly at his mark while running his finger across it. "We'll have two houses. This one, and Daddy's. We can stay here on the weekends and do cool stuff with you."
I couldn't help but grin.
Cool stuff with me, `cause I'm a pretty cool motherfucker to a six-year-old, taking selfies every five seconds or sooner, if he insists.
And he insisted.
Keeping the boys outside most of the night, running around and chasing after Max tired them out quick. Chase couldn't keep his eyes open by seven-thirty. Nolan could barely walk up the stairs, and neither one of them put up a fight when we guided them into my old room and told them it was time to go to sleep.
Chase dozed off first. Almost instantly, courtesy of the noise his big brother was making. After covering the little man up, I took my guitar from Nolan and he climbed up into bed, clutching that dragon he's had since he was a baby.
His eyes closed within seconds.
The house went still.
And Tessa? She passed out cold in our bed the second she stretched out beneath the sheets.
Normally I'd be in there with her, keeping her flush against me, cock to ass, my hand cupping her tit as I debated fucking or sleeping, fucking normally winning out every damn time and her, being Tessa, going with it and giving as good as she got, but instead I'm in here, watching over my nephews like I'm damn-near terrified they'll stop breathing or something.
I've checked to make sure that hasn't happened at least five times now, hand close to their face or on their chest, feeling the expansion of their lungs and, seconds later, the relieved compression of mine.
Stressful. As. Fuck.
How do parents do it? How do they put their kids to bed at night and get a fucking minute of sleep themselves?
I guess this comes with the territory. Being a dad means putting yourself last, your kids and woman first, making sure they get everything they need; roof over their heads, hot meals and beds to sleep in at night, and also, case in point right fucking now, guaranteeing they are living those lives you're willing to die to give them, and doing it peacefully under that roof you provided.
Not losing consciousness in the middle of the night because you weren't fucking paying attention to what mattered most, because you were a selfish prick who thought about getting a minute of shut-eye yourself.
Fuck that.
If this is what it takes, if this is what comes with getting a family of your own, having the woman you love give you that family and trusting you to take care of it, relying on you to be her man and a father and not a selfish prick who cares more about himself than what really fucking matters, I'm down with it.
I'm down with all of it.
A quiet grunt lifts my head. Arms still tight across my chest, my eyes narrow in the darkness, spotting the crib by the window.
Chase.
Motherfucker.
I shove off the wall and stalk across the room, stopping beside the crib and bending down to examine the little man sleeping.
He is on his back, just like he was five minutes ago when I last stalked over here, body limp except for the arm he has wrapped tight around his stuffed octopus. That damn thing shoved in his face, right against his mouth and nose, obstructing his breathing. A-fuckin'-gain.
Smothering him.
Probably restricting his oxygen and slowly taking his life.
I've moved that motherfucker away from his mouth three times now. Three fucking times. What the fuck? He can't just stay asleep and leave it where I put it, which is way the hell away from his face.
This is the main reason why I'm not asleep, my mind at ease and my hand squeezing one of Tessa's perfect tits. I gotta make sure Chase doesn't kill himself with this bastard stuffed animal I'm two seconds away from throwing outside or feeding to Max.
Reaching down, again, I grab a tentacle and pull the octopus to the edge of the crib.
Chase groans. His eyes flutter.
With a fucking sneer I know he's directing at me, even though the room is near pitch black and he seems to be completely out of it and not focusing on anything in particular, and like I'm not saving his precious little life right now, he grabs that same damn tentacle, flips over onto his stomach, and pins the octopus to the crib with his arm, his face smashed right up against it.
Right. The fuck. Up against it.
Mouth and nose.
"Goddamn it, little man. You're really starting to piss me off."
"What are you doing?"
I lift my head and turn it, spotting Tessa in the doorway.
Head cocked to the side, hair all messy and wild from sleep, big and looking like I've had my hands in it, which immediately starts doing things to my dick, the knuckles of one hand digging into her right eye, the other eye pinning me with confusion.
I straighten and brace my hands on the edge of the crib, shifting slightly to face her.
"Saving Chase from a slow, painful death. One he keeps insisting on meeting tonight while he's in our care, which I really don't fucking appreciate."
She straightens too, pushing off from the frame, looking even more confused as she pads slowly across the room, her curious eyes slicing between me and the crib.
"He's trying to kill himself?" she asks, stopping beside me and gazing down at Chase, the end of her question breaking with a yawn.
"Yeah."
"And how's he trying to do that?"
I gesture at the obvious scene in front of me.
"You serious? Look how he's got that piece of shit right up against his face. He can't breathe like that. I know he can't breathe like that. Been standing in this room listening to him make these scary-as-fuck suffocating noises in the back of his throat for the past forty-five minutes, startling himself enough to partially wake, resituate himself, where, like a pain in my ass, he decides to stupidly put that piece of shit bastard stuffed animal up against his face again and pass back out, only to cut off his air supply five fucking minutes later. I keep taking it away from him and moving it out of reach, not out of the crib 'cause I know he'll really freak if I do that and I don't want to wake Nolan, but just out of the way of his face, and you know what he does? He fucking shoots me this look like I'm getting on his fucking nerves, not saving his life, grabs that piece of shit, rolls over or whatever he needs to do to get more comfortable, and proceeds to press his face in it again while he dozes back off."
Tessa laughs softly.
I wrap my hands around the edge of the crib again, tightening my grip as I look between her and Chase.
"Now you see what I mean when I say he's trying to kill himself? The kid has a death wish, and honest to fucking God, he's giving me chest pains."
Tessa stares up at me, eyes round and no longer holding a shred of sleepiness to them, her mouth slowly curving up in one corner, then the other, her cheeks lifting, and proceeds to then break into a quiet, yet still fully amused and solely at my expense laugh, dropping her head until it hits my arm with a soft thud.
"Oh, my God," she whispers, her shoulders shaking. "You look ready to kill Chase. Straight up."
Kill him?
"I'm saving his life."
"You're pissed off," another cackle then, "'cause Chase is giving you dirty looks."
I watch her hand come up and cover her mouth, quieting her laughter.
"Poor kid only wants to sleep with the stuffed animal he's slept with his entire life, Luke. The same one he's never suffocated from. Never came close to suffocating from. And you're the big meanie taking it from him."
"Fucking miracle he hasn't suffocated," I cut back, glaring at the octopus, then whipping my head around and aiming that glare at the top of Tessa's head.
"A big meanie? I'm mean for keeping him alive?"
She turns fully to me at the same time as I turn fully to her, her hands forming to my waist where she squeezes with each gasp of breath she takes between giggles, her body jolting against mine.
"Not seeing anything funny about this," I growl, tilting my head down when she lifts hers, the look I'm giving her conveying my feelings and ceasing her laughter.
"Kid is seriously stressing me out."
Tessa pulls her lips tight, fighting that smile, her hands still clutching at my sides.
"I can see that."
"Seriously stressing me out," I reaffirm.
Another lip twitch, which she conceals quickly.
"How dare he."
"But I want this."
That gets her.
Mouth instantly going slack, eyes no longer creasing in the corners and instead going round the way they do when I say important shit to her, maybe even going a little bigger this time from these words, words I need to get out and, more importantly, I need her to fucking hear, her hands relaxing to my hips where I barely feel them anymore.
"Want… what?" she whispers, staring up at me.
"This," I reply, tipping my chin at the crib and the bed against the wall, moving a little closer and securing my arms around her waist so she can't run away from this or me, knowing damn well that's what she wants to do right now and preventing it.
She's been avoiding this conversation for months. I'm tired of her avoiding it.
Tessa goes still. Her lips part with a gasp.
I continue with a squeeze of my hands, keeping my voice low, but steady and sure.
"Want this with you. Want to be standing here going out of my fucking mind 'cause our kid is shoving some motherfucking toy against his face and making noises that scare the shit outta me. Want that same kid, or another one you give me, forcing me to take selfies every five seconds in every goddamn room of this house, marking their growth on that wall in our kitchen and looking at it every time I go in there, loving that it's there and, if we happen to want or need a bigger place because you keep giving me kids, which, babe, you want my dick, you know you got it. Ten, twenty kids, I don't care. You give them to me, I'll want them, cutting that same piece of wood from the wall in our kitchen and taking it with us, 'cause it sure as shit ain't getting left behind."
Tessa blinks, opens her mouth to try and talk her way out of this conversation, 'cause she's my woman and that's what she does when something's too heavy for her to take on and she can't escape, attempts to speak, then clamps her mouth shut again when I cut her off and keep going.
"Want this, babe," I tell her, angling my head to get closer, my hands moving up her back to her shoulders and neck, to the sides of her face where I hold her there. "Want this more than I can remember wantin' anything, aside from wantin' you, and I wanted that a whole fuckin' lot, Tessa."
Her lips quivers.
"Still do. Nothing changing that. Nothing could change it, and I think you know I'm being serious right now, considering what all we went through. And speaking of that, babe," I pause, breathing in her gasp when I put my mouth an inch from hers. "What happened in the past with us, is in the past. I can't change it. You can't change it. You thought you were carrying my kid. You knew I didn't want it, which, telling you right the fuck now, I would've wanted it, considering you were part of that package and I'll always want whatever I can get that gives me you. Know that. The shit that happened back then and the shit that followed, got us to here. Got me to seeing my girl wearing my ring and looking so damn happy every time I see her looking at it, hearing the excitement in her voice when she introduces me as her man, and seeing my name attached to hers, knowing it'll always be attached to hers. Always, babe. I can't regret any of that. Not when I'm standing here with you right now. Not when I get to live the rest of my life knowing I have you, and further knowing what all I want out of the rest of my life, which includes starting a family with the only woman I care to give my ring to, attach my name to, and hear introducing me as her man."
"Luke," Tessa whispers, her pink lip still quivering.
"Not done, babe," I inform her.
She blinks, then nods her head still encased by my hands.
"Okay."
I keep on.
"I know you're scared. I know the shit we've been through gives you that right to be scared, but I'm telling you, Tessa, on my fucking life, I will never put you through that kind of pain again. I'll fuck up, no doubt piss you off occasionally, maybe frequently, but I know you fucking thrive on that shit and get off on it so I'm not too worried about arguments or fights over who the fuck is going to do the dishes or why my dirty clothes are on the floor, which, babe, just so you know, I get off on it too so please keep running your mouth about how you're sick of my shit, 'cause I fucking love it, but what I am saying is I ain't leaving. I will never leave you again. I gave you that ring, my last name, and my fucking life. A life I want filled with you and the family we'll share together. I want that. This." I shift my eyes to the crib and bed, then back to Tessa. "But only if I can have it with you."
We stare at each other for what feels like a lifetime. My heart beating so loudly I can hear it in my ears.
Tessa tips her head up, suddenly looking defiant.
Shit.
"I do not get off on you leaving your dirty clothes on the floor," she snaps, rolling up on her toes to get closer. "Nothing hot about that, Luke."
My back goes straight. My hands dropping to my sides.
"Babe, seriously? That's what you got outta what I just said?"
Unfuckingbelievable.
"No," she quickly replies. "That's not what I got outta what you just said, but it's part of it. I also heard you telling me you only want it to be me wearing your ring and claiming your last name, for-fucking-ever, you like me telling people you're my man, which, just so you know, I fucking love saying it so even if you didn't like hearing it, I'd still say it. Not needing your permission, babe."
I shake my head.
Jesus Christ.
She keeps right on going, bringing her hand to her hip.
"Also heard you saying you like fighting with me, which is why I'm running my mouth right now instead of getting all emotional on you after you just said the most beautiful words to me I have ever heard in… my… life, more beautiful than what you said the day we got married, and," she cocks her head, "honest to God, Luke, didn't think you could top that day, but you just did. So, I'm giving you my mouth the way you like it `cause I know you get off on that and there are several choice places I'd like your mouth to be right now, and I'd appreciate it finding it's way to those choice places sooner rather than later after taking in everything you just said, which, babe, was the most I've ever heard you say in a conversation. Like, ever."
I stare down at her, feeling a few of her words hit me straight in my dick.
Several choice places I'd like your mouth to be.
Fuck yeah.
I move in, ready to pounce on my woman but Tessa thwarts my advances with a firm hand to my chest.
Something moves over her face as I lean back. Her eyes gentle. She swallows thickly, then proceeds to give me the tiniest voice I've ever heard her use.
"You want this? Like, really really want it?"
"Babe." I tilt my head. "Yeah. What did I just say?"
"And you're sure… I mean, you're positive you want this with me?"
"Tess…" I start, but she jumps back in, fisting my shirt as she continues.
"Forever, Luke. I'm talking about you being tied to me forever. 'Cause even if this somehow didn't work out…"
"It will," I assure her.
"But even if it didn't…"
I grab her arms firmly.
"It will, babe. Not goin' anywhere. Not without you."
She scrapes her teeth across her bottom lip, dropping her eyes to my shirt.
"You'll be stuck with me," she murmurs. "Stuck for life like Ben is stuck with Angie. That situation isn't so bad now, but still, something happens to us and you move on, you find someone like Ben found Mia, I don't think I could…"
I've had about enough of this bullshit.
Tugging her, I press her against me, pinning us chest to chest, or, more accurately because of the height difference, tits to stomach, my arms snaking around her back and tightening, ignoring the cute little gasp she gives me and taking over this conversation before she says something else to piss me off.
"Without you for a year," I growl, seeing the memory I'm pulling from hit her like a jolt of lightening, her spine going stiff and her eyes instantly filling with tears.
"Luke," she whispers.
"A year, Tessa," I continue. "Never moved on. Thought about you every day. Thought about how I fucked up and driving myself crazy thinking about it, trying to stay pissed at you for not telling me about the kid, which only made me think about you even more, knowing I had to stop thinking about you and move the fuck on, but couldn't. Never… hear me, babe, I never had that with a girl. Never thought about someone the way I thought about you, and babe, the way I thought about you I knew even then that shit was sticking with me for life."
She blinks, sending tears halfway down her cheek before I swipe them away with my thumbs.
"Wanted to be tied to you since you hopped outta your brother's truck, walked your sexy ass over to me and refused to shake my hand, giving me that smile that's both sweet as hell and has the ability to make me think about doing other things to your mouth, besides watching you use it in sweet ways. You askin' me if I want this, I'm telling you," I lean in closer. "I want it. I want it today. I'll want it a fucking year from now. I'll want it when I'm too old to tell you I want it, so yeah, babe. I'm sure. Never been more sure about anything, 'cept the day I saw you, hopping outta your brother's truck."
"Oh my God," she says breathlessly.
"See you're getting me now."
About fuckin' time.
That soft, on-the-verge-of-more-tears face vanishes before me. Her expression tightens up, and with quick hands she shoves hard against my chest, sending me a couple inches backwards since she catches me off guard.
"The fuck, Tessa?"
I mean to say more. I mean to ask her why she pushed me and to possibly prepare myself to inform her, again, my clear as fuckin' day, in my opinion, views on this topic but she hurls herself into my arms and shuts me up with the kiss to beat all fuckin' kisses.
Wet and sweet. Rough and crazed.
Just like my woman.
"You are such an asshole," she says while hitching her legs around my waist, her hands digging into my shoulders and sliding to the back of my scalp where she drags her nails, sending a chill up my spine.
So good.
"You know I can't handle sweet from you. That isn't you, Luke. I know you, and I get off on you, then you throw sweet at me and I'm unprepared for that and it does weird shit to me like almost bring me to orgasm just from your sweet and what the fuck?"
Her last three words are pressed against my jaw where she bites and licks my skin, then moves back to my mouth, giving me her tongue, hot and wild.
Christ. She's mad and horny.
Fuckin' love that.
I get us out into the hallway before I rip her clothes off and take her right there next to Chase's crib.
"What? It's the truth," I tell her, kicking our bedroom door open and tossing her onto the bed.
She sits up, pulling her shirt over her head and ridding herself of her panties, her eyes on me while I toss my own shirt and make quick work of my belt.
"Too sweet." She shakes her head. "I'm pretty sure the second your tongue hits my clit, I'm coming."
"Wouldn't be the first time."
Her eyes narrow as she watches me crawl toward her after stepping out of my pants and boxers, her head hitting the pillow and her knees dropping to the side, allowing me to push my shoulders between them and whisper against her cunt.
"Ask me."
She moans, fingers digging at my scalp as I lick where she's wettest, dragging my tongue over her clit until her legs shake.
She wasn't lying. Her first orgasm hits seconds into it, thighs clamping against my ears and nails breaking the skin of my shoulders.
"Shit." She arches off the bed. "Oh, God, Luke… fuck."
I keep at her, eating her roughly, moaning when she grates her heels into my back and fucking her with my tongue when she lifts her hips, pressing unashamedly against my face.
"Waiting, babe," I say after releasing her clit from between my teeth.
I lift my head, meeting her eyes glazed over with need and want, her tongue darting out, chest heaving with sharp breaths, showing me that fire she has every time I'm building her.
She lifts her legs higher, spreading more for me and tugging at my arms to ease me up her body.
"Do you… Luke!"
I flip her on her stomach before she has a chance to get out her question and pull back, her slim hips in my hands, bringing her to her knees, the tip of my cock rubbing between her ass until she drops down…
Lower.
Lower.
Her cheek pressing to the mattress, her ass high in the air, pushing back as an offering to me which I waste no time in taking.
Grunting, I slide home, yanking her back, fingers digging into flesh until I'm fully inside.
She stretches her arms above her head and claws at the sheets.
"Damn," I growl.
I watch my cock move in and out, keeping my pace and slowly building us.
"You want it, babe?"
Tessa turns her head and nods, her lips parted with a moan.
She thinks I'm talking about her taking my cock. I know she wants that. Fucking sure of it. No need to confirm.
"Want it with me?" I ask, getting to my point and not stopping there, even when I see my meaning dawn on her face, but driving it home and making it stick while I fuck her.
"Being serious, babe. You say you want it, want everything I'm fuckin' sure of and have been sure of for a long fuckin' time, I'm looking at getting you knocked up tonight. No joke. You ain't starting that new pack of birth control that's sitting on the counter. That shit is going straight in the garbage. By me. I'm going to fuck you. Take a break. Fuck you again. Check on the boys, `cause you know Chase is acting suicidal in there, then come back in here and let you ride me so I can watch your tits."
I slide my hand around her waist and dip it between her legs.
She gasps, writhing against me and pumping back to get me going faster.
I give her faster.
Harder.
Watching her hands curl into fists on the sheet.
"Yes," she pants, giving me her answer as I move my thumb over her clit.
"You want it?"
"Yes."
"Want it with me?"
"YES," she moans, head dropping. "God, Luke… oh, fuck. F-Fuck."
Her pussy clenches around my dick.
Hard.
She wants it with me.
Wants a family, kids, all of it… with me.
Couldn't hold off coming now if I tried.
I wrap my arm around her chest, my other around her waist and pull, bringing her up as I pump my hips and go off deep inside her cunt, her hands reaching back and sliding over my thighs to my ass, pulling me even deeper as she turns her head and claims my mouth in a long, hard kiss.
Wet and sweet. Rough and crazed.
"Forever, babe," I tell her, kissing her gently, pushing her sweaty hair out of her eyes, my cock still buried deep and her arms still clutching at me.
"For-fuckin'-ever," I whisper.
She smiles against my mouth before leaning forward to untangle us, then turning and wrapping her arms around my neck, giving me a hard squeeze.
Her tongue tastes my bottom lip.
"Heads up. There's a real good chance I'll be a raging bitch when I'm pregnant and you'll be getting the brunt of my mood swings and probable violent tendencies, more than probable death threats for putting me in that situation in the first place. You might be regretting all this forever talk."
It's my turn to smile, and I do it pushing my hand into her hair and tilting her, angling to get more of that mouth I'm completely fuckin' gone for.
"Countin' on it, babe. Know I get off on that."
She shakes her head through a laugh, touching her forehead to mine before giving me that kiss.
And I fuckin' take it.
All of it.
For-fuckin'-ever.
***