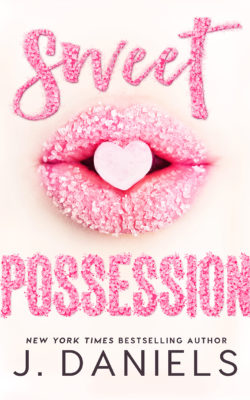 Sweet Possession
Where to Purchase:
Synopsis:
A New York Times bestseller!
From the author of the Alabama Summer series and the Dirty Deeds series, comes a sexy new companion novel to Sweet Addiction.
 A sassy, in-your-face baker. A panty-stealing, dirty-talking accountant. And a bathroom quickie that changed their lives forever.
Wedding hookups never amount to anything.
Unless that hookup knocks you on your ass.
For Dylan Sparks and Reese Carroll, the big day can't arrive soon enough. Dylan, stressed to the max from overbearing mothers and last minute preparations, struggles to keep her sanity. As for Reese, he's fighting to not only keep his bride-to-be safe from creepy investors, but also to make it to the actual wedding day without losing his mind in the process.
Throw in a crazy group of friends, and a bachelor/bachelorette party weekend getaway, and you have a recipe for the sweetest wedding of the year.
Reese Carroll and Dylan Sparks cordially invite you to read Sweet Possession.
Excerpt:
He pushes my foot down and grabs the two halves of my dress, locking eyes with me as he yanks the remaining material apart, exposing me completely. I lay underneath him, practically naked, and I see the struggle in his eyes to stay angry with me. But he manages. "You're not coming tonight, Dylan. Not after going out in public in this shit." He pulls the shredded material out from underneath me and tosses it onto the floor. "And don't even think about trying to handle that situation on your own. If I hear one moan or sexy little whimper out of you, I'll spend the rest of the night withholding your orgasm."
My eyes widen at his threat. Shit. That sucks. He's crazy-good at that. I cross my arms over my chest, blocking his undeserved view as he brings my foot in front of him, his fingers working the strap around my ankle. "Whatever. If I don't get off, then you don't get off either. You'll be suffering as much as I will."
He drops my shoe onto the floor and arches his brow at me. "Is that right?"
"Yes," I state with a clipped tone. My other shoe gets tossed over his shoulder, but I don't care where because all my attention is drawn down to his hands as he works his cock free and begins stroking it. I gasp and reach out for it, my mouth watering at the sight. "Oh, my God. Let me do that."
"No." He lets his khakis slide down to mid-thigh as he stares at my body, his hand working his glorious cock. I've never seen Reese jerk off before, and I'm kicking myself for never requesting that he do it in front of me. This is insanely hot, probably one of the hottest things to witness. His upper body is flexed completely, every muscle bulging out at me, screaming for my hands. And then there's his cock.
That. Cock.
© 2015