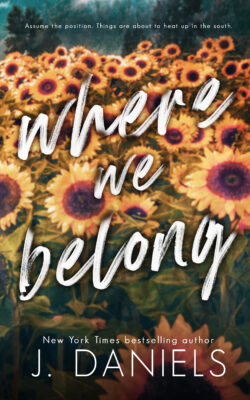 Where We Belong: An Alabama Summer Novella
Synopsis:
From New York Times bestselling author, J. Daniels, comes the fourth book in the sexy and hilariously charming Alabama Summer series.
Available to read in Kindle Unlimited!
Ben and Mia Kelly can't seem to catch a break.
Grueling night shift and opposing schedules have left the passionate couple geared up and ready for some much needed alone time. There's only one thing standing in their way.
Parenthood.
With two curious boys who have mastered the art of cock-blocking roaming the house, Ben and Mia, sexually frustrated beyond reason, quickly resort to surprise sexcapades and naughty little trysts whenever and however they can get them.
Who said anything about keeping things legal?
Assume the position. Things are about to heat up in the south.
Excerpt:
Mia
If someone would've told me ten, fifteen years ago that not only would I eventually like Benjamin Kelly, my greatest tormentor, but that I would fall completely in love with him and marry the guy… well, I'm not sure what I would've said. Ten, fifteen years ago I probably would've directed whoever was spouting that nonsense to Tessa and let her handle them.
Even as a preteen, she would've had a very colorful response.
But me? I think I'd have stood there, disbelieving, probably a bit disgusted, but maybe, maybe the tiniest, concealed part of me would've smiled a little at the idea of him liking me, falling completely in love with me, marrying me.
I like to imagine there was always some part of my soul that belonged to Ben. Something undeniable tethering us together. An imperceptible energy, like the force behind a gust of wind.
It's always been there.
It's what brought me back to Ruxton, Alabama three years ago. It's what put Ben in the bar that night. And it's what made falling in love with him so incredibly simple.
All those years I hated him seem like a lifetime ago. One which never even belonged to me. I don't remember those emotions. I don't remember the pain and hurt he caused me. The detestation I felt.
I look at my husband and the only thing I see is love. The only thing I feel is love…
Love.
Love.
Love.
My mind loves Ben. My heart loves Ben. My body loves Ben. He's the warmth in my blood. The roar of my pulse.
Give me a hundred years with Benjamin Kelly, and I'd still beg for more.
Lately though? With two boys who have mastered the skill of interrupting Mommy and Daddy the second we put our hands on each other, I'm not making unrealistic demands. I'm asking for one hour.
Give me one hour alone with Benjamin Kelly.
I'll beg for that.
At this point, I'll beg for five minutes.
© 2015 J. Daniels