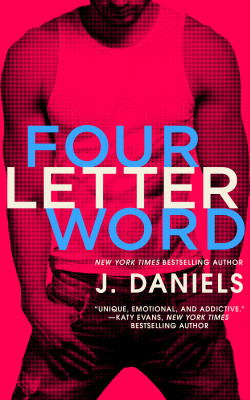 Four Letter Word: A Friends to Lovers Romance
Synopsis:
A New York Times bestseller! Now available in Kindle Unlimited!
Fate. Hate. Love. Lies.
Which four letter word will change their lives forever?
Sydney Paige was never so mortified to hear the words "wrong number" in her life. She meant to tell off the guy who broke her best friend's heart, but unleashed her anger on a perfect stranger instead. And now her world is turned upside down by the captivating man who wants to keep her on the line.
Brian Savage is living a life he's quickly come to hate-until Sydney's wild rant has him hooked and hungry for more. Soon the sexy woman on the phone becomes the lover in his bed. But Brian has secrets, and the closer he lets Syd get, the harder it is to shield her from the devastating mistakes of his past . . .
Praise for FOUR LETTER WORD:
"A delicious slow burn with explosive chemistry–Four Letter Word is everything you want and more. Twists and turns. A to die for hero. J. Daniels's writing is unique, emotional, and addictive. My four letter word is LOVE. Multiplied by four!"―Katy Evans, New York Times bestselling author of Manwhore
"Consider yourself warned: Four Letter Word will grab you from page one and won't let you go! It was deliciously sexy, and achingly beautiful. Completely and utterly brilliant, I loved every word!"―Tara Sue Me, New York Times bestselling author
"Four Letter Word is the perfect blend of heat, emotion and humor. J. Daniels does an excellent job pulling you in with relatable characters, solid writing and a beautiful story about finding love when you least expect it and forgiveness. I can't wait to see where she takes us next with Tori and Jamie!"―Tara Sivec, USA Today bestselling author
"J. Daniels never disappoints! A stunning story with humor and heat, prepare to smile and squirm as you race through the pages. You'll be dying to know what happens next!"― Jay Crownover, New York Times bestselling author.
"Love! That's the four letter word to describe how I felt about this unique, sexy story. J. Daniels' hottest book to date."―Penelope Ward, New York Times bestselling author
"The perfect mix of funny, hot and heartwarming. I enjoyed it immensely!"―Mia Sheridan, New York Times bestselling author
Excerpt:
I showered and shaved, slathered on my favorite sweet-smelling body lotion, slid into the dress after deciding on a thong and no bra, thanks to the mesh, and curled and teased my hair, giving it body and height that looked kick-ass paired with my outfit.
I also went to town on my makeup job, keeping everything heavy but the kind of heavy that screamed fierce concertgoer and not back alley hooker.
Dark, smoky eyes, false lashes that flared at the ends, and warm cerise lipstick.
I felt pretty. Really pretty.
The kind of pretty a girl had to commemorate with a selfie, and there was only one person in the entire world I wanted to send that selfie to.
I bit my lip while swiping my phone off the bed and pulling up the camera mode.
I was nervous.
Understandably so. This would be the first time Brian was going to see me.
Like ever.
Heavy stuff right there.
I'd thought about sending him pictures before, but got sidetracked with conversation and his sweet as warmed honey voice I wanted to taste, and all thoughts of pictures would slip my mind. Considering he never asked to see a photo of me didn't help either.
Since he wasn't bringing it up, I was hardly thinking about it.
But right now, standing in my bedroom with my makeup done up and my hair looking prettier than it had on prom night, sending Brian a picture of me was suddenly all I could think about.
And before I could think or whisper talk myself out of it, I reversed the camera so I could see myself on the screen, held the device out in front of me and off to the right a bit, pursed my stained lips into a kiss, other hand poised at my chin to blow it, and snapped the picture.
Then I attached it to a text and hit Send.
Feeling WILD.
I wanted to put my phone down. Really I did, especially since I had to snap on my studded cuff bracelet and that required use of both hands, furthermore because Tori had given me a fifteen-minute warning close to fifteen minutes ago, but I couldn't let the damn thing go.
I couldn't stop looking at it either.
My stomach was clenched. I was biting my fist and pacing the length of the bed, head down and eyes anxiously focused.
But when the little bubbles floated in teasing intervals on my screen and I knew Brian had seen my photo, that's when the real panic set in.
Would he like how I looked? Would it be how he had imagined and confessed to imagining countless times late at night to me, or better, would my photo exceed the limits of his imagination and paint a more pleasing image in his mind?
Or would he hate it and me for sending it to him, shattering his dreamed-up spank-bank material and ruining every orgasm I ever gave him?
Shit.
Shit!
Which was it and why the hell was he taking so long to type? Didn't he know this was killing me?
"Hurry up!" I whispered against the screen.
It started ringing in response to my plea, startling me and nearly slipping out of my hand.
Oh, God, he was calling.