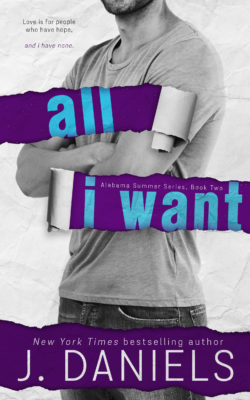 All I Want
Where to Purchase:
Synopsis:
From New York Times bestselling author, J. Daniels, comes the second COMPLETE STANDALONE in the Alabama Summer series.
Luke Evans is a heartbreaker.
I didn't want to give mine to him. Not when he kept me out.
He gave me enough, just enough to make me fall in love with him. I say this to convince myself. But I know the truth.
I would've fallen in love with him at a distance.
Handing my heart over to Luke was the easiest thing I've ever done. I was naive when I wished for more, when I hoped he wanted the same things I did.
I try to hate him. I try to forget him.
But it's not that easy.
Love is a ruthless bitch, and I'm her latest victim.
~*~
Tessa Kelly is a man-eater.
When she sets her sights on you, she doesn't just consume your heart, she goes for your soul.
What we had was perfect, real, and all I would ever want.
But she destroyed it.
She destroyed us.
I try to hate her. I try to forget her.
But it's not that easy.
Love is for people who have hope, and I have none.
Excerpt:
I moan against his touch, blocking out the familiarity of it, and purely focusing on the thickness of his fingers. Shit, I'm soaked. Practically dripping. And I know it's for him. There's no other explanation for it. Pissed off, hungry Luke Evans can work my body into a frenzy, without even touching me.
But he is touching me.
When two fingers enter me and his thumb finds my clit, I drop my head back against the wood and my legs shake beneath me.
"Oh my God," I whimper.
"Do I need to tell you what to do with that?" he asks, his voice laced with arrogance as he glances down at my hand that remains stagnant against his cock.
"God, I fucking hate you." I pull his cock free and wrap my hand around it, feeling him thicken in my palm. He grabs the back of my neck, tilting my head up to look at him as I stroke up his length.
"Yeah, I hate you too, babe," he grits out, our faces a breath away from each other.
I ignore the sentiment and narrow in on my task, spreading the pre-cum around with my thumb as my entire body starts to burn up.
"Harder," he growls. "Squeeze me, Tessa. You know what I like."
I do. I know exactly what he likes. And I hate that I know it.
I grip him harder, pumping him faster, as he finger-fucks me against the door. I can't look at him. He's too close. His mouth is right there, and I know it'll kill me if I taste him.
God, please don't kiss me right now.
Clamping my eyes shut, I feel my skin flush as his thumb pulses against my clit. I'm so close to coming and I know he's right there with me. He's throbbing in my hand, moaning against my ear, and I could let this play out how we both want it to. Just a few more strokes, another slide of his fingers, and it'll be over.
This will be over.
And I'll regret every second of it.
© 2015