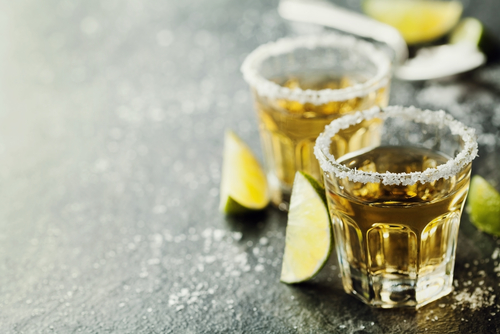 "I'll take some of that," I announce after claiming a stool at the high-top counter. I point a finger at the bottle in the bartender's hands.
The older man looks over at me, then lifts his other hand holding a blender filled with a lime-green concoction.
"A margarita?" he asks.
"No. The tequila," I reply. "Just sit the bottle down when you're finished with it. I'll take it from there."
Laughing, he turns away and continues pouring into the blender.
"How `bout you start off with a shot and see how that goes?"
I turn my head at the sound of the deep voice next to me. CJ steps up to the bar.
My stomach clenches. I sit up taller on my stool.
Did he follow me over here?
What?
Why in the world would he do that?
Of course he didn't follow me over here. He's just thirsty. Look how big he is. He probably has to drink constantly to keep from passing out from dehydration.
I watch him continue to stare at me, his eyes bright and eager as he waits expectantly for a response because… shit! He asked me a question. What was it? Something about drinking and going somewhere with him?
Oh, my God… is that what he asked me? Does he want me to take me somewhere?
I lick my lips, swallow whatever saliva I have left as I stare into his eyes, and respond with a confused, "huh?"
Honestly, I just need clarification at this point. And I might be stalling.
Can I seriously leave with him right now? That's crazy! I don't even know him!
Holding his beer, CJ angles his body, bending his elbow on the counter and leaning his weight on it. He looks down at me to say, "I don't know if you can handle that entire bottle, darlin'. Might wanna go slow. That shit is harsh."
I blink.
Darlin'
And… decision made.
Yes. I can leave with him right now. Absolutely. Who cares if I barely know him? Let's goooo.
CJ's chest rattles with a laugh. "You hearin' me?" he asks, tilting his head and smiling. "You look a little lost, babe."
Babe.
God. He needs to stop.
Finding some sense because I have not even had a drink yet and I'm already losing grip on all of my inhibitions, I ignore the rush of heat moving underneath my skin, tip my chin up defiantly and reply, "what makes you think I can't handle a bottle of tequila? You have no idea what my tolerance is for alcohol."
"I don't, but I'm bettin' you weigh a buck ten soaking wet," he counters. "Can't imagine a little thing like you slamming back a bottle and staying upright."
"I weigh a buck nineteen, actually," I correct him, giving him some sass with my tone and raising a finger. "And that's not even when I'm wet."
My eyes go round immediately after my giant sassy mouth quits moving.
Oh boy.
I did not just say that, did I?
CJ smiles bigger, his eyes growing wider and brighter as they search my face.
"Now there's a sweet fuckin' visual," he says, looking me up and down. "You wanna explore that topic `cause babe, I am down for that. Just say the words."
And there's my confirmation. I said it.
Perfect.
I need a set of rules when being in the general vicinity of CJ Tully.
Rule number one: Do not speak.
Jerking my head straight, I raise up higher on my stool, lean over the counter and snap my fingers at the bartender to get his attention.
"Hey! Tequila!" I shout.
If there is ever a time for alcohol, it's now. Just stick a bottle in my mouth and shut me up with it.
The man gives me an acknowledging tip of his chin as he finishes up with another customer. I take that and settle back on my stool, watching as he moves down the bar, grabs the bottle and pours me a shot.
"Sorry about that. Here you go," he says, sliding a small plate of lime wedges next to it. He looks at CJ. "You want something?"
"I'm good for now, man. Thanks," CJ replies, lifting his bottle for the man to see.
I don't waste any time and grab the salt shaker, wet the back of my hand and sprinkle a thin layer there, then I lick it off and immediately shoot the tequila, following that up with a lime wedge I suck on until my cheeks pucker.
"Wow," I cough, rubbing at my throat. God, that's like breathing fire. Then I remember who is standing next to me and attentively watching, judging, thinking he knows what I can handle, so I lower my hand to the bar and slide the glass away from me, grabbing the bartender's attention again and requesting, "Another please? That stuffs just… the best. So smooth, you know?"
He tops me off, eyeing me warily as CJ chuckles under his breath.
"What? It is. I just love it," I announce, turning my head toward the lurking doubter and flashing a smile. "It also makes you pretty. I read that in a Texas bathroom once."
CJ brings his beer to his mouth and takes a swig, observing me while he does it. Then he lowers the bottle, licks his lips and informs me, "Not sure you need help in that department, babe. Pretty sure you're set on looks."
I watch his eyes wander lower. And lower…
Oh boy.
I quickly look away and set myself up for shot number two.
Salt. Lime at the ready.
Then I watch my shot go sliding out of reach when CJ pulls it in front of himself after setting down his beer.
He keeps his fingers around the glass, turns his head and looks at me.
"Are you… withholding my alcohol from me?" I ask, letting go of the shaker and lime wedge before swiveling a little on my stool.
I may ask my question with a thick voice full of suggestion. I may even bat my eyelashes.
But only because that first shot is making me full warm and a little numb all over. No other reason.
Really.
CJ watches me cross my one leg over the other, his brow lifting appreciatively, then he slowly lifts his eyes and answers, "Not yet. I think you can have a couple more before I need to keep my eye on you."
"And what are you doing right now exactly?"
He grins, admitting, "Trying not to keep my eye on you."
"Well, you suck at it," I tell him, smiling when he throws his head back with a laugh.
Oh, that's a nice sound.
"Can I have my drink please?" I ask after his eyes reach mine again.
"Answer my question first?"
"Depends on what it is."
He narrows his stare and studies me for a moment while forcing a serious face, which is the exact opposite of what I'm doing.
I'm trying to contain a smile that's threatening to crack my cheeks wide open.
It's the tequila.
Honest.