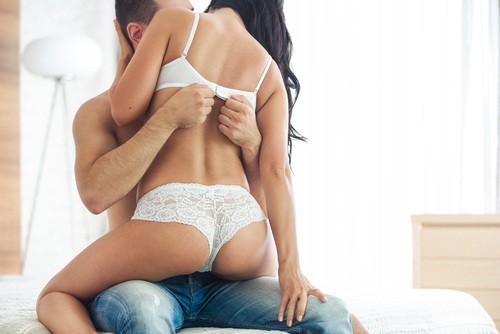 She slides the heavy coat off her shoulders and down her arms. It falls to the seat beneath us. Black lace and satin cling to her curves, the heavy swell of her breasts press against the fabric.
The outfit from yesterday. This is her surprise. Sex. Uninterrupted fucking in the back of my squad car, with her looking like the embodiment of every fantasy I could ever conjure up.
Christ, I'm the luckiest man alive.
I grip her waist as she straddles me.
"Goddamn, Mia."
"Did you guess?" She kisses my jaw and moves her lips to my cheek. "I hear you were being very difficult this afternoon. Poor Luke."
I watch her hands dip between us and tug at my belt.
"Actually," I begin, rubbing her sides. "I thought you were going to tell me you were pregnant."
She stills. Her head lifts and these big brown eyes grip me.
"Oh."
"That's the only thing I could think of. I ruled out anything dealing with sex because of the boys." I smile and tug her closer. Her startled breath bathes my face."Didn't realize my wife was so fucking filthy. This is kind of illegal, you know? You been planning this for awhile?"
Illegal. Like I give a flying fuck about laws right now.
If Mia told me the only way to get to her pussy was if I robbed a bank, I wouldn't even bother going to the next town over. I'd clean out Ruxton and deliver that bag of money in one hand and my dick in the other.
She shakes her head, shyly avoiding my eyes. "Since yesterday." Her hand flattens against my chest and she pushes back, pressing me against the seat, putting space between us again so she can work at my slacks. "This is my fantasy."
"Is it?"
She nods, keeping her attention lowered.
"Just like this. When I finger myself this is usually what I'm thinking about."
My chest heaves.
Jesus Christ.
The scratch of my zipper sounds, then her warm hand is wrapping around my shaft and pulling me free. She pumps my erection, squeezing in slow, leisurely jerks.
I grit my teeth. My thighs tense beneath her.
"God, Mia. How do you want this? What happens in this fantasy, angel? Tell me."
I'm hoping this involves me restraining her in some way. The use of my cuffs. We've played like that before and every time Mia is perfect in her submission. Trusting, willing to take what I give her and so fucking wet I can put my mouth on her pussy and drink from it. But sweet holy fuck, I'm so turned on right now I might agree to anything. If she wants to run this, to take her pleasure from me and use my body to get off, so be it.
I'm hers.
"You're just like this," she whispers. "Fully clothed with your cock out. I ride you until we both come."
She inches closer and positions me between her legs.
No panties.
I groan when I feel the soft, plump skin against my shaft.
"Baby."
"You're so hard," she moans. "God, Ben. Always. I always want this. Do you know? I think about touching you and being with you like this all the time. It's constant. I… think there's something wrong with me."
She bends and kisses me, dragging her teeth across my lip, dipping her tongue into my mouth as she slowly lowers herself onto my cock.
Lower.
Lower.
Fuck. Let me die here.
Pleasure ripples through her body. Through mine. That moment of our joining gripping me low in my belly, sending slivers of warmth up my spine and prickling in my scalp.
I brush her wet hair back away from her face and watch her move up and down on my dick, stretching herself wider and wider. Her desire coating my length and trickling over my balls.
"Nothing wrong with you, angel. I'm the same way." I thrust my hips a little and she gasps. Her head rolls to the side. "I ache for you. Want you so bad I can't fucking breathe."
"Will it always be like this?"
Like this- wild and vital. More than a necessity to me.
I grab her face and kiss her hard, sucking a little on her tongue. "What do you think?"
She nods, whimpering a quiet "yes" into my mouth, then leaning back to gaze at me and tugging the ends of my hair. "I ache for you too."
My response, a hoarse "good" gets caught in my throat as I watch Mia subtly rock her hips, her hands moving to my shoulders and seeking anchor there.
She alternates between grinding in my lap and bending forward so she can bounce on my dick, pressing her lips to my ear and whispering my name, telling me to fuck her.
I squeeze her ass and slam her down on my thighs.
Her moans grow louder, echoing against the glass.
"God, listen to you. Hear how wet you are?"
She whimpers, arching her back. "I need this."
"Take it. Christ, take everything, Mia."
Her wide, unsure eyes focus on mine. She blinks.
"Take it," I say again. I move my hands to her hips, holding them gently, dropping my head against the seat and giving her my body to use.
"Come on, baby. Ride my dick."