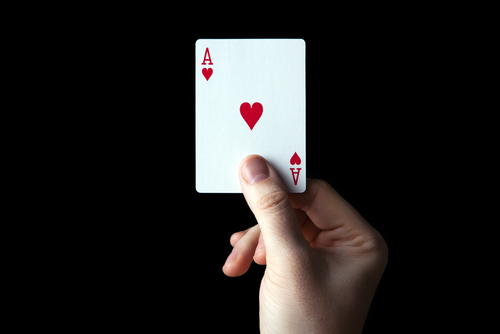 "I thought maybe we'd play a game. Do you have any cards?"
He releases me and disappears down the hallway and into a room while I turn and sit on the armrest of the couch. Re-emerging moments later, he tosses me the deck and I stand up and walk to his round dining table, pulling out a chair and sitting in it.
He sits across from me and I blow him a kiss.
"Handsome." I pull the cards out and begin shuffling them.
"Love, what game are we playing?" He leans back in his chair, his shirt tightening across his broad chest.
Who the hell looks this good in sweats?
I think for a moment before I reply. "I actually don't think it has a name, so I'll just explain it to you." I stand up and walk around the table, pulling my chair so that it is now next to his, and sit down. He turns his body toward me and begins lightly running his fingertips over my bare knee. I place the stacked deck face down on the table in front of us.
"So, we take turns drawing cards, each suit representing something different. Hearts are kissing, diamonds are oral, clubs are stimulation using your hands, and spades are massages."
His eyebrows raise and he licks his grinning lips.
"The numbers on the cards represent how many seconds you get to do that activity, for example." I pull the top card and turn it in my hand, showing the five of hearts. Leaning in, I press my mouth against his and swipe my tongue across his lips as he moves with me. I savor his minty taste for five, well worth it, seconds and then break away, placing my card down on the table. "Oh, and I've kept the jokers in. You pick one of those and you get to fuck me."
He rubs his hands together eagerly. "No time limit on the fucking?" Dropping his hand on top of the deck, he waits anxiously for my response with a raised brow.
"No, but I would like to play a little before we get completely lost in each other, so I'm hoping neither one of us draws one for at least a couple turns."
He looks like he is about to respond, but quickly shakes his head as he picks up a card. I dance in my seat as he shows it to me. "Diamonds are what again?"
"Oral." I lean back in my chair and spread my legs as he amusingly kneels down in front of me. He looks just as enthusiastic about this as I am.
"Count it out," he says, slipping off my panties and tucking them into his pants pocket.