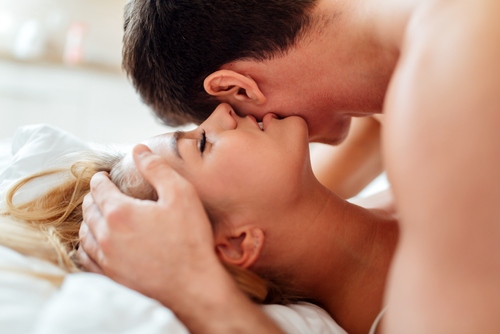 "I want three," Tori said between panting breaths.
I felt the sweat of her body stick to mine.
"Three what?" I asked, kissing down to her jaw.
"Kids," she gasped, then her legs tightened around me when I stopped building it in her because, fuck me, she was bringing this up. She never brought this up.
I brought it up. She'd agree she wanted it, too, or she'd attack me with her mouth and let me know she was feeling what I was wanting, but never, not once, had Tori broached this topic on her own.
"Jamie, please," Tori begged, her legs pulling to urge me, and I could feel her growing tighter and wetter and tighter.
Fuck. She was right there.
I lifted my head and took her mouth, and then I fucked her hard and fast, powering into her, and Tori was coming within seconds, crying out and bringing on my own orgasm with how fucking snug her pussy got around me.
I groaned once more into her mouth as I finished.
Tori shuddered and panted beneath me, trying to catch her breath.
"All boys," she added when I leaned back to look at her. "With hair like yours and skin that always smells like the ocean. I want that so bad."
I gave her hands a squeeze, pressing my fingertips into her bones as I looked at her messy hair on my pillow and flushed skin, shiny with sweat, then lowering my gaze and seeing the beauty she was giving me in the smile she had lifting her full, soft mouth.
"You wanna get cleaned up before we talk about this?" I asked her.
Tori kept her smile, pinching her lips together, and shook her head.
I smirked, knowing she'd choose that 'cause lately she was always choosing it, saying she liked messy sex with me or some shit like that, then I slowly pulled out, shifted my hips up, and trapped my wet dick between us.
Tori hummed and wiggled beneath me. She loved it when I did that.
"Can't even get you to go out in the ocean with me again," I reminded her of the one thing she was still fighting me on and kept pushing off until another time.
"And you're wantin' a bunch of boys who live in it like I do?"
"Yep." She smacked her lips on the "p," smiling bigger.
"Want 'em to surf?"
"Yep."
"Probably gonna want their momma out there joinin' them eventually," I threw out. "You down for that?"
"I'll be ready when they are," Tori replied, looking proud of herself.
"Mm." I lowered my head and nipped at her lip. "Five," I said.
Tori blinked. Her head pressed farther against the pillow so she could see me better. "Five? You want five kids? Really?" she asked, blue eyes growing wider.
"Yep," I echoed her, letting my lips smack on the "p."
Her mouth twitched.
"Got seven bedrooms. We're in one. Five for them," I started explaining. "That leaves a game room or a place we can store our trophies, mine and theirs, 'cause they sure as fuck will be collectin' 'em like I do. Talent's in the genes, babe. And there ain't no point in stoppin' at three when we got room for more."
"Yeah but, five? I don't know about five," she murmured. "Three was sounding really good to me. Perfect actually."
"Five. I'm firm on that."
Her eyes narrowed and her mouth grew tight.
"Three," she shot back.
"Five."
"Four," she countered, adding sass to her offer.
I smirked and pressed a kiss to her mouth. "Knew you'd give in," I said.
"Um, I didn't. You wanted five."
"Wanted four," I revealed, leaning back again and watching her blond eyebrows pull together. "Knew you'd give me shit 'cause you like givin' me shit. That's how you work, babe. Knowin' that, I figured I'd shoot high and then ease off to get what I wanted. Wanted four. Now we're getting a trophy room and a motherfucking game room. That's badass."