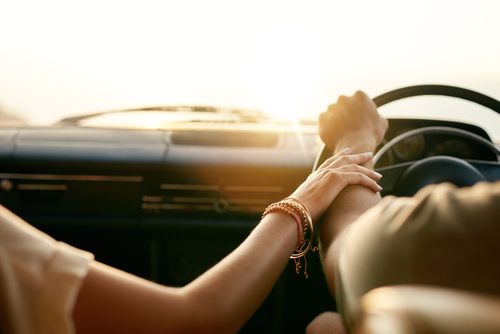 Mason stares straight ahead while he drives, keeping one hand on the wheel and the other on the console between us. "Do you like Italian food? I saw this spot the other day when I was driving around. Giovanni's. You ever been?"
I search my memory. The name doesn't sound familiar. "No, I don't think so. But I like all food. You really can't screw up here."
He reaches for my hand, confidently holding it between us.
The conversation with Joey in my bedroom from minutes ago plays back in my mind. Him, accusing me of dating Mason. The underlying implication that he's my boyfriend. The ridiculous 'do you want to keep him' question.
My stomach clenches.
I pull my hand away and go for the stereo, turning up the volume. A song I don't recognize fills the car. The guy sings about love and wanting. I hate it immediately. I go through all of Mason's pre-programmed stations, trying to find something I like, but also, keeping my hand busy and not idle in my lap.
"You all right?"
I give him a quick glance. His eyes are serious. "Yeah… yeah, I just wanted to listen to something. I like background noise. I always have music playing in my car when I drive. It's comforting."
He seems satisfied with that explanation and turns back to the road ahead.
"Is the restaurant far from here?"
If it's more than a few blocks away, I'm totally screwed. I'll look like I'm having a nervous breakdown if I scroll through stations for more than a minute. Maybe I can adjust his audio settings? The bass does seem a bit overpowering.
"Ten minutes," he replies.
Shit.
I adjust the balance, the treble and base settings. I change the station again when a song by The Fray seeps through the speakers.
I do not need to hear their shit right now.
Mason's hand circles my wrist after a few minutes of this madness. "Why do you keep fading the music to the front or rear speakers only? What are you doing?"
I hesitate responding. I'm a horrible liar.
"Um, just… I'm just trying to give you the best listening experience. Relax. I know what I'm doing."
I have no idea what I'm doing.
"Brooke."
We stop at a red light. I look over at Mason, and suddenly feel guilty for pulling away from him. He doesn't look angry, or annoyed, or even like a person who just witnessed an act of insanity.
His eyes are tender, full of understanding.
I feel like I want to crawl under my seat and hide. I can't remember the last time I felt this uneasy.
"I don't have to hold your hand," he tells me, smiling ever so slightly. "I wanted to, but I don't have to. You can go easy on my audio settings. It's okay. Really." He moves my hand back to my lap and releases me, only to rest his hand on my thigh. "But, I do want to touch you somehow while I drive. Just a little." He gazes at my body. "God, you look incredible. I'm trying to be decent and not throw you in the back, but it's bloody torture with you in this skirt." He slides his hand a bit higher, inching it closer to the apex of my thighs.
Throw me in the back? Yes! I want that! Screw decency!
I suppress a moan, trapping it on my tongue. I don't want to sound too anxious, even though I'm close to jerking the wheel and pulling us off the road, which will in turn free him up to focus solely on me.
He gives my thigh a gentle squeeze. My toes curl. Desire blooms low in my belly.
"Did you wear this so I could slide my hand between your legs? I think you did. I think you wanted to drive me a little mad, yeah?"
I watch the path his hand is taking. "Yeass," I breathe. My mouth falls open.
Yeass? Did I really just combine yeah and yes? Think before you speak, Brooke!
He chuckles as the car rolls forward.
I try and spread my legs, grant him access, ease the ache I'm feeling that's now pulsing with a demanding rhythm, but my legs are pinned together, restricted by the form-fitting motherfucking material of my bloody skirt.
I grunt in frustration, until I remember the use of my own hands.
Do I mind sitting bare-assed in Mason's vehicle? Nope. Not one damn bit. And now would be the worst possible time to start feeling shameful about anything.
I grip the hem of my skirt and ease it up my legs. I'm expecting Mason to dive right in, but before I can reveal the fact that I'm going commando under this thing, he slides his hand in the opposite direction it needs to be going and thwarts my progress, smoothing out my skirt and resting his hand back on my thigh, closer to my knee, far, far away from where I need him.
"What? Come on. You can't be serious." I turn my head. His hand goes stiff when I try and pry it off my leg. "Give me your hand. I want to hold it."
His profile lifts as he stares ahead at the road. "Yeah? You want to hold it?"
"Yes."
"With what? That sweet little cunt you were just trying to show me?"
I gape at him. Good Lord. Did he just say…
That accent, paired with anything even remotely filthy is enough to put me in the record books as the first woman in history to ever have an orgasm without any touching. I am now officially the wettest I have ever been in my entire life. No panties? What a dumbass decision. If I get up and there is a damp spot on this seat, I'm never showing my face around this man again.
He briefly looks at me. "Well?"
I shoot him a steely look. "You have no proof of that. Maybe I just remembered how much I liked holding your hand… with my hand, pervert. Okay? Maybe I miss it."
He squeezes my thigh. "I think I'm going to keep it here. I like it here."
I slump back against the seat like a child on the brink of a tantrum. "Fine. I like it there too, so… whatever. Do what you want. I don't care."
I drown out his laugh by cranking up the volume on the stereo again.