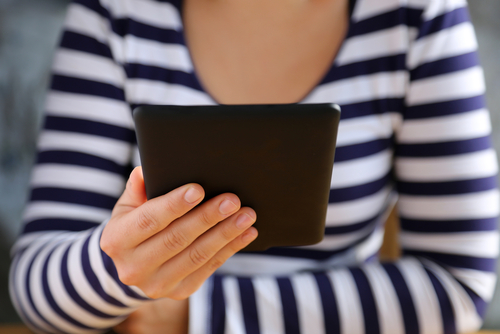 "So," he begins, a dangerously wicked smile playing on his lips. "Where all does he touch her?"
"Uh… what? Who?" Confusion pinches my eyebrows together, until he nods at the Kindle on the table in front of me. I look back into his eyes. "No idea. I've never read this story before, and someone interrupted me before I got to any of the touching."
"You could read it now. Out loud, preferably."
"You want me to read you a sweet love story?" I ask.
He points a finger at my Kindle. "If that's your idea of a sweet love story then hell, yes I do. I fucking insist you read it out loud."
I grab the cherry floating in my drink and pop it into my mouth, keeping hold of the stem. I chew before saying, "It is a love story. Jodi's crazy about this guy, Ryan, and he's slowly falling for her. Just because there's a bunch of filthy sex in it, doesn't make it any less sweet." I drop my stem onto the side of my plate of fries. "Stories should feel real. Wanting something wild and romantic at the same time feels real to me. I think relationships need both. And it's not porn." Our eyes meet. "Porn doesn't make me cry."
He leans closer, dropping his head next to mine. "I could disagree with you on that. There are people out there who are into some really fucked up shit. I've almost cried watching some of it."
I fall into a laugh, letting my head tilt back against the booth. "Oh my God, I know what you mean. I accidentally stumbled on this video one time…"
"You accidentally stumbled on it?" he interrupts, the corner of his mouth lifting. "You mean, you were searching for porn, which is extremely hot to hear, and you came across a certain video."
"I was not searching for porn."
"That might be true, but if you don't mind, I'm just going to keep imagining you were. I like that version of this story." He lifts his hand off the table, sweeping it in front of him. "Please continue. I'm dying to hear all about your porn preferences."
I shake my head through a laugh. "I've never searched for porn. Ever. If Google decides to throw in a few websites based on what I'm looking for, that's not my fault. And I usually don't click on them, but this one had a catchy title."
"What was it?"
"Edward Penis Hands."
He raises his eyebrows in surprise. "What the hell were you searching for that gave you that as a result?"
I shrug. "I heard they were remaking that movie, and I wanted to see if they had already started casting people. My search was very innocent. And in case you're interested, the actor who played in that version was Johnny Dildo." I smile. "I think it got the same ratings as the original movie."
He laughs, low and soft in my ear.