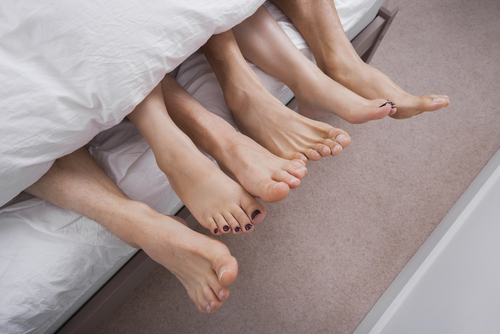 The sound of our bedroom door opening alerts us both, and Ian emerges in the bathroom doorway. He surveys my pathetic condition as he leans against the doorframe, crossing his arms and his ankles.
"What the hell did you and Juls drink last night? She's been throwing up since 3:00 a.m."
I shrug, barely moving my shoulders an inch. All my strength seems to have left me. "Just champagne. We had some wine at the spa, but not enough to make us sick." I grab onto Reese and slide off the countertop. "Let me go see her."
I pull my hair into a messy bun as I walk through our bedroom and into the hallway. My head still feels like it's in a vise, but my stomach seems to have settled. I see the suitcases lined up outside the rooms, ready to be taken out. Four suitcases. Reese, Ian, Juls, me.
Where are the others?
Joey's door is still closed and I panic that he and Billy might oversleep and miss the flight. Without knocking, or thinking, I open his door and barge in like I own the damn place.
Three heads pop up in the bed. Three very startled heads. And one of those heads becomes very alarmed being sandwiched between the other two.
"Brooke! What in the fuck are you doing in here?" Joey grabs the covers and pulls them up into his lap, covering him and Billy.
"Relax, baby. You invited her," Billy says, before lying back on his pillow.
Joey looms over him. "I sure as shit didn't. Did you?"
Billy grimaces before rolling over, pulling the covers over his head.
Brooke rubs her eyes and smiles. "You invited me, Joey. You also called me fabulous, I think, and said I'm welcome to join you guys anytime you go out." She slips out of bed, revealing herself in a man's T-shirt that barely covers the line of her panties. She flattens her palm against her forehead, frowning. "Oh, hello, hangover."
"I would never invite you to share a bed with us. And get the hell out of my T-shirt. That's one of my favorites."
"Calm down, JoJo. You most certainly did ask her to share your bed. Drunk Joey is a major fan of Brooke," Juls' voice comes from behind me.
I spin around a bit too quickly and have to steady myself with a hand on the wall. And then I look at her.
She's dressed in skinny jeans and a blouse, her hair pulled back into a bun and her makeup looking fresh. Even if she has been throwing up since 3:00 a.m., she doesn't look it. Julianna Thomas has never looked anything less than chic a day in her life. She grins at me.
"Sweets, can I talk to you?"
I nod, turning back around. "Cabs will be here in thirty minutes. You guys better get moving."
All three bodies scramble out and around the bed while Joey quietly grunts his disapproval of the situation. I follow Juls out of the bedroom, down the hallway, and down the flight of stairs.