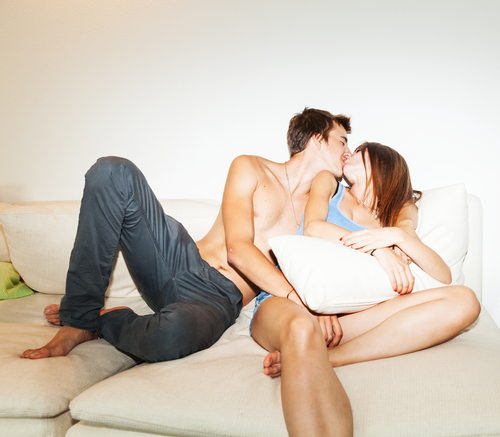 I started taking over, grinding down and forward while my hands gripped the back of the couch, going from slow to fast to slow again, then circling my hips instead of rocking them, pulling deeper, dirtier noises out of Brian.
"God, Wild."
"So good," I moaned, popping my booty and bouncing in his lap. "You feel…so good."
His hips started driving off the couch as his fingers dug into my back under the white polo I was wearing and quickly peeling off so he could get to my breasts.
The second the material hit the cushion beside us, Brian had my bra pushed down and his mouth latched around my nipple, sucking it hard and hungry when the doorbell sounded with a charming pitch.
I gasped and froze like a stone.
Brian froze, too, releasing my nipple but keeping his mouth against my flesh, his arms tight around me, waiting.
If we didn't move or make a sound, they'd leave. This was apparently the train of thought we both shared.
Seconds passed.
"False alarm?" I guessed, then felt my spine tighten when the unmistakable sound of metal sliding against metal and unlocking alerted us of someone entering the house.
"Fuck," Brian hissed, shifting me off his lap until I fell backward onto the cushion beside him.
He grabbed my shorts and panties off the floor and tossed them at me, both of us frantically pulling on and sliding up clothes, tucking and zipping and covering as best as we could before the door pushed open and little excited voices filled the house.
"Uncle Brian!" a boy yelled.
"We're here! We're here!" another voice cried animatedly, this one sounding like a girl. "And we brought our iPads! Wait 'til you see my Minecraft now, Uncle Brian. It's so awesome!"
Uncle Brian?
Panic raced through me.
"Oh, my God, your family is going to see me naked and know exactly what we were doing. My first impression is going to be horrible," I whispered, pulling on my polo now that my shorts were fastened, which turned out to be a chore doing on my back but I had no other choice. It was the only way I could stay concealed.
This was so embarrassing!
"Did you know they were coming over?"
Brian stood to zip his shorts.
"I forgot," he replied quietly, looking me over while pressing a hand to the front of his shorts. "Fuck, I was so close."
"Get over it," I snapped softly, struggling to get one arm through my shirt. "And hold them off from coming in here. I still have a boob out."
Brian smirked, which I totally could've slapped him for but he looked really cute doing it so I let it go. He moved around the couch to hold off our company but halted only a couple of feet away when quick footsteps padded into the room.
"Uncle Brian!" the little girl shrieked. "Guess what? I chopped down Ollie's tree!"
"Livvy! Why did you do that?" the boy asked, sounding angry. "I just put that up."
"Because it was the only other tree I could find," she replied meekly. "I'm sorry, Ollie. Don't be mad. You can chop down my tree."
"Would you both stop talking about Minecraft for five seconds and go give your uncle a hug?" a woman suggested.
Teeth clenching, I finally got my arm through the second hole and pulled my shirt down, double checking I was covered then sitting up slowly and stretching my hands above my head while forcing a yawn.
"Oh, wow. That was the best nap ever," I lied, then rubbed my eyes and blinked fake sleepily between the two kids who were peering around Brian's arms wrapped around them and the young woman standing a few feet away who I assumed was their mother.
She had Brian's high cheekbones and full lips, which she was turning up into a knowing smile as she looked at me.
I didn't think she was buying my nap story.