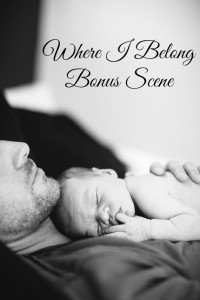 Mia: Oh my God, I'm so excited! I feel like I haven't been with you in years!
Mia: Hurry up. Is he asleep? Just lay him down. He'll be okay. Actually no, don't do that. He'll scream, and then I'll feel guilty.
Mia: Shit, I'm so horny right now. I might start without you. But I won't… but I might.
Mia: Ben, HURRY UP.
I smile down at the phone in my hand as Chase rubs his face against my shirt.
"Buddy, you are really screwing me here fighting sleep. Your mommy is in the other room, and she is ready. I gotta wait for you though, little man, and the longer you take to pass out, the slimmer my chances are to get up in that pussy. And do you know how long it's been? Do you know how old you are?" Chase coos against me. "You are six weeks old today, Chase. Six weeks. I know that doesn't mean anything to you right now, but when you're older, and you've gone that long without being inside your woman, you'll understand how serious this situation is. Your daddy is dying here."
He brings his fingers up to his mouth, and a wave of relief washes over me. I know that sign. Shouldn't be long now.
Me: Give me five more minutes. He's sucking on his fingers now. Funny, I'll be doing the same thing after I make you ride mine.
Mia: You're killing me…
I wind up the mobile when the sound fades out and settle back into the glider, rocking Chase slowly the way he likes. He's so different from Nolan. Chase needs constant movement to fall asleep, and noise. Any kind works for him. It doesn't have to be his mobile. He'll fall asleep in a crowd of people at the mall as long as you're moving him around. But Nolan, when he was a baby, you couldn't do anything with him. He needed to be still, and he needed silence. That took forever to figure out. I thought all babies liked listening to those annoying nursery rhymes when they were in their cribs. But not Nolan. I'd pace around with him, trying to get him to fall asleep while that damn mobile played in the background, and that just made it worse. It wasn't until I was exhausted from almost two weeks of him fighting me every night when I sat down on the couch with him against my chest and shut my eyes. I wasn't trying to fall asleep. I'd never do that while holding a baby, but I was fucking drained. Angie was God-fucking-knows where, and I just needed a break. Even if she was around, she wouldn't want to deal with him. I put him to bed every night. I played both parents while she did whatever the fuck she wanted. I never complained because I loved my son, and I wanted every second with him. But fuck, I was tired from being up all night constantly. I just wanted to sit for a minute and shut my eyes. Not even thirty seconds after I got comfortable on the couch, he fell asleep. It was dark. It was quiet. And I wasn't moving. The next night, and every night after that when he was with me, I sat down with Nolan in my living room, and almost immediately, he'd close his eyes. If I pulled that shit with Chase tonight, I'd never get laid. And I'm getting fucking laid.
After winding up the mobile one more time, I slip out of Chase's nursery once he's fast asleep in his crib. I get to my bedroom door, palm the knob, and twist it to push the door open.
"Daddy?"
My head hits the still closed door with a soft thud. So fucking close.
Oh, God. What does she look like in there? Is she naked? Is my dirty little angel pumping her fingers in and out of that sweet pussy just thinking about my cock?
"Dadddyyyyy."
My hand drops from the doorknob and presses against my hard-on.
"Yeah?" I turn my head, keeping my temple on the door, and spot Nolan standing at the end of the hallway with his stuffed dragon in his arms.
"I can't sweep. My bwain wants to watch TV and eat a snack."
I scoop Nolan up in my arms and step into his room. "It's too late to watch TV and eat a snack. You should've been asleep over an hour ago." I lay him down on his pillow, and his hands fist my T-shirt, refusing to let me straighten up. "Nolan…"
"Can you way down with me? Pwease, Daddy?"
My hands flatten on the bed, and I stare down at my son. His big gray eyes are heavy, eyelids slightly swollen with sleep. His hair is a wild mess, and his mouth opens to allow the ear of his dragon to slip inside for him to suck on. He reaches up and runs his finger down my nose, and fuck, he has me. He's smiling big behind that dragon because he knows he has me when he pulls that shit. I repeat the gesture and climb in next to him, tucking him in with the hand that isn't braced behind my head.
"Daddy?"
"Hmm?"
"Why don't I go over Mommy's house anymorwe?"
My chest tightens, making breathing difficult. We haven't talked about this. Nolan rarely asks about Angie, other than the times he's wondered if he was going to see her again. And I've given him a one word answer, yes, and changed the subject, because I don't know what the fuck to say. I don't want him to see her again, but when she does get out of jail eventually, I'm sure I'll have to deal with that shit. She'll probably serve a few more years for the DUI she got arrested for. The one that could've killed my son. If I had any say in it, that cunt would rot in jail for the rest of her life. But I don't. I can't do shit about her getting out some day, but I can protect Nolan. He's mine. Mia is his mommy now, and Angie can go fuck herself if she thinks she's taking him away from us.
"Daddy?"
I look down into Nolan's tired eyes. "Your mommy, your first mommy, had to go away somewhere, because she couldn't be a good Mommy to you. But she loved you very much, and she wanted you to have the best Mommy in the whole world. So me and her, we went looking for a princess, because we knew a princess would be the best Mommy to you."
He smiles, letting the dragon ear fall out of his mouth. "I wove Pwincess Mia, Daddy. She's the best Mommy evewr."
"And she loves you very much, Buddy."
"Did my firwst Mommy weawy love me?"
I nod before I have a chance to hesitate, because I don't fucking know the answer to this. And this shit fucking kills me. What kid should have to question this? What the fuck kind of person makes their own child doubt whether or not they love them?
Running my hand along his cheek, I feel him lean into it as he brings the dragon back to his mouth. "She loved you, Buddy. She just couldn't love you like a princess could."
Nolan closes his eyes and scoots closer, nuzzling against my shirt.
"Is Chasey going to be wittle fowrever?"
"No, Buddy. He'll get bigger just like you."
"Wiwl he wike dwagons too?"
"Probably."
He makes a soft grunting sound. "I won't wet him take you," he whispers into the darkness of his bedroom. I turn my head away from him, keeping my amused reaction to what he's just said silent. Only Nolan would comfort his stuffed animal. Only my son would think about some inanimate object's feelings after touching on his own so profoundly.
Nolan yawns, then says quietly, "Wove you, Daddy." His voice muffled against his dragon.
"Love you, Buddy." I press a kiss to his forehead, then slide out of the bed, not moving toward the door in case Nolan protests it. I wouldn't be surprised if he did. But as I stand there in the dark, his breathing changes, becomes heavier, more relaxed. I wait a good minute before I move, because I'm not getting hard again and shutting that shit down. Pulling my cell out of my pocket, I hit the power button and light up the screen.
11:24 p.m. Fuck. Fuccckkkk. I texted Mia over an hour ago saying five minutes. And she hasn't texted me since, which can only mean one thing.
As I push my bedroom door open, my eyes find Mia's body like there's nothing else in the room to focus on. The glow from several illuminated candles casts over her, showing my angel in the light I always see her in. Eyes closed, she's on her back in an outfit I can't even fucking stare at right now without busting a nut in my shorts.
Black. Lace. Those fucking stockings I found in her dresser last week that she refused to put on for me.
Jesus Fucking Christ. I'm going to come before I touch her.
I strip and wrap my hand around the base of my cock, willing it to chill the fuck out for a second. I'm so amped right now, there's a good chance I'll embarrass the hell out of myself if I do exactly what I want to do, fuck her awake. So I go with option two. The second best thing to sliding inside her tight pussy. The thing she'll chose over anything else, except my cock. The thing she'll beg me for.
I should make her beg right now for teasing me with this outfit. Dirty, dirty Mia. You're going to scream so fucking loud for me.
I don't waste any time. I can't tease her tonight unless I feel like coming all over this mattress. Dropping my head, I nuzzle my mouth against her pussy, throw her legs over my shoulder, and wait until she slides her hand into my hair before I run my tongue over her clit.
"Mmm… I thought I was dreaming."
I grab a handful of her tit overtop the lace, squeezing a gasp past her lips. "Not dreaming, pretty girl. You touch this pussy without me?"
She shakes her head through a moan.
"You sure?" I ask, biting down on her clit and holding her down when she squirms.
"No, no I… Oh, Ben, please."
"Better make sure you're not lying." I pull her hand off my head and slip her two favorite fingers into my mouth. She watches me, mouth open and tongue sliding along her bottom lip as I suck. "You waited for me," I conclude, turning my head to plant a kiss in her open palm.
"I told you I did," she says, her voice throaty from sleep. She cups my jaw. "Are the boys okay?"
"Mia, please leave them out of this room tonight. I need to fuck my wife, and I can't do that if you start asking me about other men."
She laughs as I lay my head on her thigh and run my thumb between her lips. "I need you to fuck your wife, too. But you can't do it if you're down there."
"I want to eat your pussy first."
"Ben," she pleads. Her head lifts from the pillow to see me better as both hands grab my face, forcing my attention up her body. "It's been six weeks. Please. Fuck me already."
I crawl up her so fast, she squeals underneath me, giggling into the skin of my neck. My cock lays heavy against her thigh as her hands roam all over my back, then her nails mark my skin with an urgency that has me shaking as I press the tip of my cock against her clit.
"Oh my God. Yes."
"Tits out, angel. I might consider fucking them first, `cause I will lose my mind the second you clamp down on me." I release a rough exhale, gripping the base of my cock until it's almost painful. "Fuck, Mia. I'm dying here."
Her eager hands free her breasts, bunching the material of her lingerie between us at her waist. Then her hand is covering mine, sliding my cock along her slick pussy and coating me with what my mouth should still be savoring.
My head falls back with a groan, my muscles straining as I rock forward on my knees. "Mia," I rasp, moaning when her hand cups my balls. My resistance breaks. No, it doesn't break. It fucking shatters.
No longer able to hold off, and I grab her hand that's fondling me like she fucking owns me, secure it above her head with a firm grip, and brace my other hand next to her head as I slide into her, slowly, taking what's mine, burying myself so deep inside her, she'll never stop feeling me.
Her face contorts, eyebrows pinched together and lips pursed as she throws her head back onto the pillow.
Shit. It's been six weeks since I've been inside her. And now I'm fucking hurting her.
"You okay?" I ask, bringing my hand to the side of her face. I release her wrist and lean on both elbows to stare down at her, watching her eyes close through a deep breath. Her chest shudders against mine. "Talk to me, pretty girl. Tell me what you're feeling."
Eyes still closed, she wets her lips before whispering, "Ben." I drop my head next to hers as my heart lodges somewhere in my throat. I can't stand hurting Mia. I should just pull out right now and go back to worshipping her pussy with my tongue. But then her lips brush against my ear, stilling everything inside me. "Fuck me," she begs, hitching her legs around my waist, tilting her pelvis so I slide in the last insanely perfect inch.
"Yeah?" I ask, leaning back to look at her. "You want it hard, angel?"
She nods, keeping her eyes on mine. "I want it hard."
"I'll come," I warn her.
"Me too."
She smiles, and fuck, I'm so gone for this woman. Screw every motherfucker out there who thinks they've loved more than any other man on this planet. Who thinks they've found the perfect chick. Nobody will ever come close to having what I have, to feeling what I feel every time my wife looks at me. To this. Right here.
I've taken my wife a lot of ways, but when she wants it hard, I will never hold back with her. I'll give her exactly what she needs, because it's always exactly how I need it. When I take her slow and worship her body with more than just my cock, it's perfect. And when I take her hard, showing her how desperate I am for what she gives me, it's perfect. It's always fucking perfect, and right now as I push her legs against her chest and fuck her until I can't breathe, it's perfect.
"Mia," I groan, as the sweat drips off my temple and onto her chest. "Mia."
She runs her finger above my hip, and without looking down, I know she's tracing her name. One of my newer tattoos, besides Chase's name which blends into the design on my arm. Mia closes her eyes through a groan and presses against her favorite mark. Embedding herself deeper into me. I don't know why, but that sends me over the edge. Knowing how permanent she will always be. Knowing how badly she wants that.
I dig in deeper, fuck her harder. "Get there, Mia." I bite her bottom lip, swallowing her gasp. "Fucking get there."
"Ben!" She claws at my skin, bites on my tongue, and comes so tightly around me, it nearly blows my head off. I fuck her until I collapse, our bodies a tangled mess as she rolls me onto my back. Sweat sticks to her skin, and I run my hand between her tits when she straddles my waist.
"Angel, I need a minute," I tell her, thinking her mind's set on riding me until I can't see straight. She flattens her body on top of mine, buries her face in my neck, and sucks on my skin as her heartbeat thunders against my chest.
"I love you, Benjamin Kelly. I love you, and your giant cock."
I press my lips to her hair, muffling my laugh as my arms engulf her. "It's not giant."
"It's huge. And perfect. And so very mine."
"That's not all of me that's yours."
She's silent for several seconds, and I think maybe I've said something wrong, or maybe she's passed back out. Until she lifts her head, sealing our mouths together with a gentle kiss.
"I'm yours too."
"I know," I tell her, wiggling a hand between us to cup the only pussy I'll ever drop down on my knees for. "I think I'll fuck you slow this time."
She smiles, all big and beautiful. All Mia. All mine.